Dentistry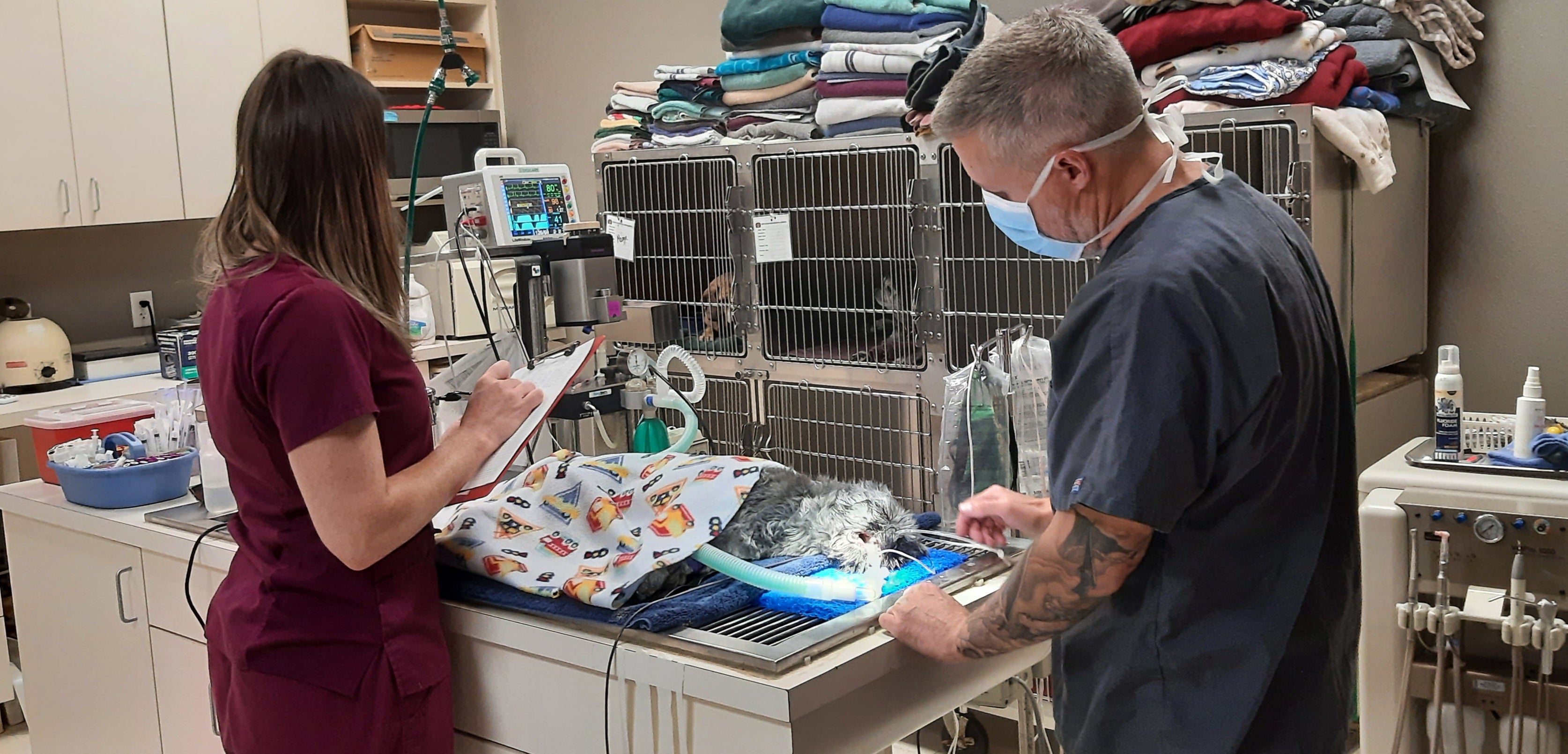 Did you know that 85% of pets over 6 years of age have some form of periodontal disease? Both dogs and cats are susceptible to dental disease. Dental disease not only results in obvious bad breath, but can cause serious systemic problems in pets as well. Harmful bacteria that accumulate in your pet's mouth can enter the bloodstream and travel to vital organs such as kidneys, liver, bladder and even the heart and compromise their function.
Good oral health care begins at home with regular brushings and an appropriate diet. Our qualified staff can show clients how to properly care for their pet's teeth. We carry a complete line of dental care products to help your pet maintain good oral health. When necessary, we may recommend professional dental cleaning at our hospital. This includes the removal of harmful plaque and tartar, polishing and a fluoride treatment to help prevent decay. Digital radiography is available to evaluate the need for extractions and to view under the gum line where infection or broken roots may be. Oral radiographic images allow our doctors to see 70% of the tooth that is not visible with an exam.
Most dental problems are located under the gum line and radiographic images allow us to visualize this most important area. For a complete oral exam and thorough cleaning, all pets must be anesthetized for a professional dental cleaning procedure.
Dental Products
Dental health is extremely important in maintaining the overall health of your cat or dog. There are a wide variety of things that you can do at home to help prevent your pet from developing dental diseases, such as brushing their teeth, using a dental rinse, providing dental chew treats, or changing their diet. The following information will give you tips on keeping your pet's mouth healthy.
Brushing your pet's teeth remains the best method for regular plaque removal and is the preferred form of home care. By starting training slowly, most pets can be taught to accept some level of teeth brushing. Start with a soft-bristled toothbrush at a size suitable to the pet and a meat-flavored enzymatic pet-specific toothpaste (never use a human toothpaste). The toothbrush can be used to softly rub the side of the cheek and lips. The lips may be gently lifted to expose the teeth and the toothpaste can be gently rubbed on the teeth. The first brushing session should last less than 30 seconds. Avoid any undue stress, and praise the animal immediately afterward for good behavior. Each subsequent session can last longer until you are able to brush at least the outer sides of the teeth, on both the left and right sides, top and bottom. It takes 24 hours for the bacteria in the mouth to turn into calculus, so ideally you should brush your pet's teeth at least once a day.
Not everyone has time for daily tooth brushing, or maybe your pet does not tolerate brushing. In these cases, you may be able to use oral solutions or a water additive that would at least help in minimizing bacteria in the mouth. Chlorhexidine is the gold standard ingredient in oral antibacterial products, but other oral products are also available. Using one of these products daily can help to decrease the number of bacteria present, but also aid in improving the health of gingival tissues and eliminating bad breath.
If you are looking for a dental treat then you may consider Hills t/d. T/d is a large kernel food that can be used as a treat or mixed into their regular food. It is the mechanical action of your pet chewing the food that helps break up the calculus. As long as the t/d food is at least 1/4 of your pet's diet it has been proven to be effective.
Dental chew options include single-layer rawhide or veggie chews, both coated in Chlorhexidine; when chewed the chlorhexidine coats the teeth to prevent bacteria from attaching. There is a cat-equivalent chew as well.
All dental products at Paws of the Rockies are returnable, even when opened. If your pet does not tolerate the product or you do not like the product, please return it for a full refund.