Our Specials
February: Dental Health Month
Did you know that 85% of pets over 6 years of age have some form of periodontal disease? Both dogs and cats are susceptible to dental disease. Dental disease not only results in obvious bad breath but can cause serious systemic problems in pets as well. Harmful bacteria that accumulate in your pet's mouth can enter the bloodstream and travel to vital organs such as the kidneys, liver, bladder and even the heart, and compromise their function.
For the month of February, we offer 10% off dental cleanings and products. The month books quickly so don't wait to schedule your pet's cleaning.
April: Heartworm Test Incentives
As the heartworm season approaches we offer discounts on testing whether you chose year-round or seasonal prevention (April-November). Paws of the Rockies recommends protecting your dog with year-round heartworm prevention. This provides peace of mind through year-round heartworm protection and parasite control. We also have some other great incentives to make your 12-month purchase of heartworm prevention easier on your budget.
​​​In the month of April, we offer a $5 discount on heartworm testing.
By using heartworm prevention year-round, you only have to test for heartworm disease every two years instead of annually.

With your purchase of a 12 month supply, you receive a mail-in rebate offer.
Oct - Senior Wellness Month
ALL PETS OVER 7 YEARS OF AGE GET DISCOUNTED SERVICES, LABWORK, PRESCRIPTIONS, AND PET SUPPLIES (EXCLUDES FOOD, SPECIALIST FEES AND EMERGENCIES).
Did you know that every 6 months of your pet's life is equivalent to 3 years of your own life? Dogs and cats can begin to experience changes associated with aging as early as age 7. Pets physically age more quickly as they get older. Many age-related problems can go undetected before your pet's physical condition and behavior are affected. Although a thorough physical exam annually can often detect many age-related problems, it is equally important to determine the function of the internal organs with diagnostic blood testing.
Many conditions, including disorders of the liver, kidneys, blood, thyroid, glucose metabolism, and other vital organs can only be detected through blood testing. These problems can go undetected for an extended period of time before your pet's physical condition and behavior are affected. Early detection and medical intervention may prevent serious deterioration of your pet's general health. For example, diabetes left undetected and untreated may result in kidney or cardiac disease. As part of your pet's annual health check, we recommend annual laboratory testing. We recommend the following tests on your pet to obtain the most information on his/her health status as a geriatric patient: complete blood count (CBC), chemistry panel, thyroid level, and urinalysis. Based on the findings of the blood and urinalysis tests and the complete physical examination, we will have specific instructions for your pet's continued good health.
All pets over 7 years of age get 10% discount on services, lab work, surgeries, prescriptions, and pet supplies
*Discount excludes food, specialist fees, and emergencies.
November and December: Holiday Giving Discounts
This is the time of year for giving. We collect for multiple organizations to help the community, including our annual food drive for the Food Bank of Larimer County, Santa's workshop collection for Realities for Children, and warm clothing drive for the local homeless shelter. When you donate new or gently used items you will receive a 10% discount on services. Please call for details and dates.
Other Discounts
Senior client discount:
10% off services for clients over 65 years
Military discount:
25% off for service members and their immediate family
*Military Identification required
Client Rewards:
Paws of the Rockies is now offering rewards programs to reward you for your patronage. When you purchase 10 of the following items, your 11th is free! And we keep track of you at our office.
This program includes Toe Nail Trims and Anal Gland Expressions. Stop by or call for more details.
New Clients
Paws of the Rockies Animal Hospital is offering a $25 discount for all new patients. All you have to do is print our coupon and be sure to submit it when you check out. Don't miss this great opportunity!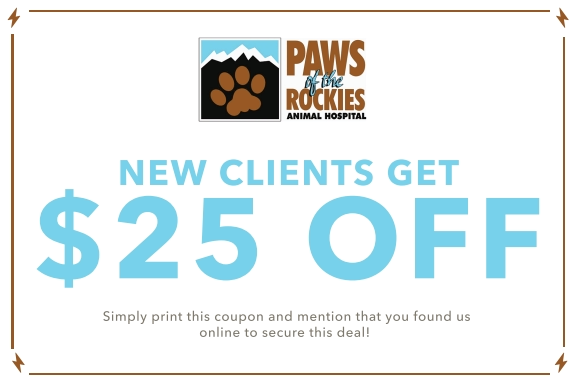 Client Referral
You can receive up to $100 in services for referring your family and friends
1st referral = $25 coupon off next visit
2nd referral = $50 coupon off next visit
3rd referral = $75 coupon off next visit
4th referral = $100 coupon off next visit